Zdravko was born in 1955 in Novi Sad, Serbia, and attended technical college in Novi Sad in 1974, graduated from the University of Novi Sad (Economics) in 1978, and earned a post-graduate degree from the University of Belgrade (Marketing) in 1982. Later on he attended a Business school for top managers organized in Belgrade by George Washington University and the University of Pennsylvania. To these learnings he added Marketing and Financial seminars in London in 1997 and 1998. He obtained his Ph.D. at the Faculty of Technical Sciences (Innovation Management).
He joined Mensa-Serbia in 1991 and became an Ambassador of Mensa International. In 2016 Zdravko presented his Doris puzzle set to Mensa of the USA and Canada at their Annual Gathering in Boston and to European Mensa in Zurich-Switzerland. Doris is a tool for fostering creativity, as verified by the scientific journal, Thinking Skills and Creativity (Oxford, UK).
Zdravko's career started in the Vojvodjanska bank (Novi Sad) as assistant to the President and CEO, and continued in the Government of Vojvodina, where he was a counselor to the Vice President. Later, Zdravko was appointed as a professor on the University Business Academy's faculty for economics and engineering management.
His puzzle-inventing began in 2000. The first ones were dedicated to his children, Theodora, then age 6, and Isidora, then age 4. In the first two years he copyrighted 10 edge-matching color puzzles, and among them were Cube Brick and Color Up.
During a most fruitful email correspondence and collaboration with Kate Jones of Kadon during early 2001, Cube Brick and Color Up were developed and expanded, and with Zdravko's characteristic energy and initiative, they were ready for the market by the fall of 2001.
Zdravko has given Kadon exclusive rights to market these sets in the USA. Other major markets for the puzzles are England and Hungary, where Zdravko visits frequently (see picture above).
A special thrill was learning that Color Up and Cube Brick made the "Games 100" list for 2003 in the puzzles category.
Several of his prototypes for new designs were revealed to the world at the Essen Game Fair in Germany in October 2002. Here is Zdravko with his first table display: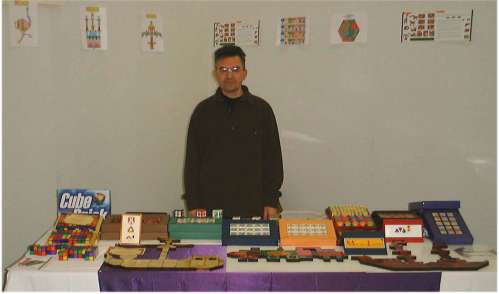 Zdravko at the world premiere of his new designs in Essen, Germany (October 2002).


The Novi Sad Children's Fair in April 2003 saw a fabulous large display of interactive puzzles that Zdravko staged, showing both his own latest inventions and several puzzles from Kadon. It was by all accounts the most popular attraction at the Fair, with TV coverage and a 30-member school orchestra opening the show.

From July 31-August 4, 2003, Zdravko was a guest at the International Puzzle Party in Chicago, IL, where he again revealed some exciting new puzzle editions.

For Theodora's 8th birthday, on September 12, 2003, we sent her this little greeting.


In honor of the family's vacation at the beach resort of Igalo in 2003, and Isidora's 6th birthday in August 2004, we designed this little memory game.
And for Theodora's 9th birthday, 2004, we increased her previous greeting by one.
In 2008, Isidora performed at the Children's Music Festival, "Little Shells," singing Between reality and dreams. See the video.
In March 2008, at the 8th Gathering for Gardner, Zdravko's magnificent DORIS set had its world premiere with a presentation by Zdravko and our co-researcher, Toby Gottfried, to a distinguished group of mathematicians, magicians and puzzlers. The special first edition sold out on the first day. You can guess why the set is named Doris... Zdravko's daughters' nicknames are Dora and Isi!
---

Update: — Since 2010, Zdravko has been organizing tournaments in Serbian and Romanian schools to challenge students' problem-solving and creative skills in finding solutions to a variety of Doris figures, spreading the championships to 10 countries: Serbia, Romania, Hungary, Croatia, Slovakia, Czech Republic, Slovenia, Bulgaria, Italy and Austria. He has also been hosting Celebration of Mind gatherings as part of a world-wide remembrance of Martin Gardner on Martin's birthday, October 21.
Zdravko and his lovely wife, Gordana, enjoy traveling to Europe's most beautiful and classic places. Here is Gordana in Italy, 2017: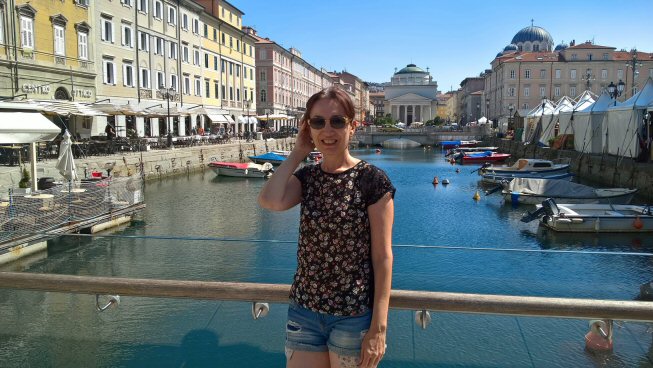 Zdravko is surrounded by the magnificent architecture of the Hofburg Palace in Vienna, Austria, built in the 13th century and expanded upon and reconstructed over the next 500 years:

After the great success of the Doris puzzle, Zdravko continued a fruitful collaboration with Kate Jones, and Kadon launched the next two edge-matching puzzle sets: MemorIQ in 2011 and Grand Bowties in 2012.
In the meantime, the two little girls—Teodora and Isidora—who had inspired Zdravko to create puzzles and games, became adults: Teodora (right), after graduating from the Simon Business School of the University of Rochester, New York (Marketing Analytics—STEM program), is now Associate data strategist at Codeword Agency in New York City. Isidora (left) is a student at the University of Trieste, Italy (Business and Management), and at the WU University of Economics and Business in Vienna, Austria.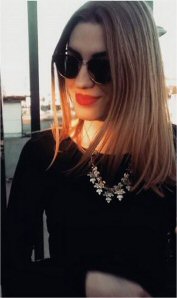 You can see Zdravko's videos of Doris Championships and Celebrations of Mind on his YouTube channel. Read our detailed annual reports on Doris Championships here (links open in new window):
RESULTS — Doris Championship 2012
RESULTS — Doris Championship 2013
RESULTS — Doris Championship 2014
RESULTS — Doris Championship 2015
RESULTS — Doris Championship 2016
RESULTS — Doris Championship 2017
RESULTS — Doris Championship 2018
RESULTS — Doris Championship 2019