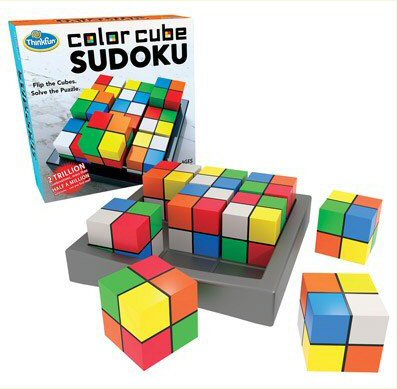 Guest appearance!
COLOR CUBE SUDOKU
TM
...designed by Raphael Meyers,
made by ThinkFun, Inc.
In 2003, Kadon presented a marvelous puzzle set designed by Zdravko Zivkovic, titled Cube Brick, which made the Games 100 list that year. Its 20 cubes included 6 colors, divided into 2x2 squares on each cube face. They could be assembled into many 2D figures with colors matching, and 3D shapes not matching. Regrettably, our initial production sold out, and we have not yet been able to make more. Fortunately for the puzzling world, ThinkFun has come out with a mini-set of 9 cubes, with their own challenges to solve. The main goal is to get 6 different colors in every row, horizontally and vertically, on the 3x3 assembly, like Sudoku with colors, by flipping the cubes to get the right colors lined up. For ages 8 to adult.

$20
Color Cube Sudoku is a trademark of ThinkFun, Inc.