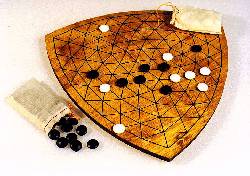 Larger image of
The Game of Y and
detailed rules of play.
THE GAME OF Y
TM
...invented by Charles Titus and Craige Schensted
Games magazine's No. 1 strategy game for 1996.
On Games 100 list, 1997, 1998.
First reviewed in 1994. (Read all the reviews.)
Deep, subtle and beautiful, Y has the simplest of rules: place one stone per turn, connect all three sides of the board with a continuous string of your color. No draws! Defense is exquisitely important. Rules for six other games plus solitaire variations are included. Refined over 30 years of play on hundreds of experimental grids, the definitive Y board is a curved triangle, its matrix like a flattened geodesic dome. The equipment is a tactile pleasure to use: handcrafted 15" wood board, glass go stones, velvet carrybag. For 1 and 2 players, ages 10 to adult.

$85
Travel edition: Game of Y on tan roll-up vinyl mat, in green felt pouch, $49