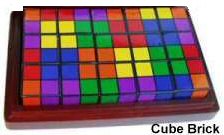 Cube Brick and Color Up are trademarks of
AVAX Corp.
P.S.: Although Cube Brick
is sold out, we hope to produce
a new edition someday.
Limited first editions, only while supplies last!
CUBE BRICKTM ... Sold out — and — COLOR UPTM
...both sets invented by Zdravko Zivkovic, developed with Kate Jones
On Games 100 list, December 2002. Unique color-patterned cubes: drawing on 6 colors, each cube is an all-different combination, and its six faces use its colors in every possible arrangement. Cube Brick has 15 cubes of 4 colors on its 2x2 faces, 90 different faces in all, and a wealth of figures to solve by matching the cube edges, plus super challenges of 3-D shapes with non-matched solutions. Color Up has 3 colors per cube, 120 all-different faces and a great collection of figures. Games for beginners and experts are included.
We have the beautiful first editions, handcrafted in Yugoslavia and numbered and signed by the inventor, in elegant wood cases. About 1½" cubes. For 1 to 4 players, ages 6 to adult.