After a sparse year for new products, we got a little bit carried away. Discovering that we could get wood cut by laser inspired the creation of our Rusticana Collection: "rustic" sets mixing wood and acrylic. Five of our existing products lent themselves perfectly to this deluxe style. Dick Jones crafted the beautiful wooden framed trays that reversed to a game surface and had clear covers to allow wall hanging.
Lasercutting wood also let us make our Oskar's Disks in a handsome wood format. This was also the year we introduced our most distinguished strategy board game, The Game of Y. Our taste for opulence this year also led to the creation of Tactile Graphics, large art objects with inlaid tiles that were tactile as well. Our little play on words came to define a whole category of our art.
---

Deluxe Rombix®
The vertical stripes of the Rombix packing pattern lent themselves perfectly to alternating wood and stained-glass-like acrylic. The pattern floats like a globe in its wood tray. Just gorgeous. And it was wonderful when Games Magazine in 1993 named Rombix one of the 100 best games on the market.



Deluxe Super RoundominoesTM
The 6 colors of Super Roundominoes just begged to be translated into 3 shades of wood and 3 transparent acrylic hues. The wood tray had an interior scalloped edge for dramatic effect. The back of the tray served as a gameboard. This set looks dazzling when wall-mounted diagonally.



Deluxe SextillionsTM
This tricky puzzle contains two kinds of pieces, marked by different colors. So we styled it alternately with one shade of wood and one transparent acrylic. The back of the tray held the game mat.



Deluxe Snowflake Super SquaresTM
This exquisite set of 36 heart-shaped interfaces in 3 colors adapted itself to 12 wood tiles and 12 each of two luminous Lucite hues. Breathtaking!



Deluxe TrifoliaTM
Designed as a checkerboard of 24 triangles, Trifolia was perfect with alternating wood and acrylic tiles. Its hexagon assembly nestled into the square wood tray with well-placed symmetry.

---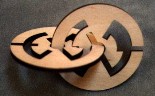 Oskar's DisksTM
Having been made originally in clear and black acrylic, the wood disks version not only felt stronger but made for a handsome sculpture when interlinked. We've been making them in wood ever since.



The Game of YTM
In the year 1993 our friends who had created Kaliko offered us their Game of Y, an abstract strategy connection game they had researched for decades with various grid configurations. Charles Titus and Craige Schensted (he later renamed himself Ea Ea) finally settled on a curved triangular pattern with go stones played on intersections, the goal being to connect a line of one's stones to all three sides of the board. There could never be a draw. We happily accepted and crafted them lovingly in wood, with little feet in the style of classic go boards. The first editions were screen-printed, and later we engraved the lines by laser. We added 6 other games and some solitaires to its repertoire. Big thrill: Y was chosen as the No. 1 strategy game of the year by Games Magazine in 1995 and kept on the Games 100 list for 1996 and 1997. We're proud to have the Game of Y as one of our bestsellers for a quarter century.

---

QuadrantsTM
In 1989 we launched a series of edgematching tiling sets under the name of Multimatch, each comprising 24 distinct tiles with 3 or 4 colors. With four colors on each square tile, only 6 distinct tile patterns are possible. (They occur in the little MiniMatch-I set, which came on board many years later, a story for another time.) If the four colors were mixed with duplicate colors on a tile, a full set would form 70 tiles, as we indeed introduced years later as Grand Multimatch I, another story for another time.
In 1993, however, it occurred to Kate that 6 four-color tiles could be made "directional" and thus become 24 distinct elements (sample of one quartet shown), and 24 chevron-shaped tiles form a 6x4 zig-zag panorama of the colors. Within that expanse, the goal was that every 2x2 of diamonds, including overlaps of tiles, was to have a different order of the colors. So the individual tiles had 4 colors, and all overlaps contained some duplicates. A total of 77 unique quadrants were possible, a very difficult goal to reach. Of course, the tiles could fill the frame in 24-factorial ways in a kaleidoscopically changeable display, an everchanging work of art. So Quadrants became one of our larger art pieces in gleaming colors, with patterns to solve outside the frame as well.



Triangule-8TM
In 1993, for a couple of years, we had the help of a talented artist and professional magician, Ed Hollins (later changed his name to Ward Hollins), at shows and at the drawing board. Triangule-8 came out of a rough sketch Ward used as a draft for a larger design that was a short-term, limited-edition art piece.
Kate decided to run with the draft sketches as a 20-tile design in its own right. The tile patterns represent the 19 Euler triangulations of an octagon—how to cut an octagon into 6 triangles by straight non-intersecting lines that connect any two vertices. This cutting produces 5 shapes of triangles, each with its own color. Matching colors can form exquisite designs, with always new ones waiting to be discovered. A fine example of how a preliminary idea can grow into a full-fledged work of art.


---
Prequels:
A Quarter-Century Retrospective (1980-2005)

1992-2017: Diamonds forever
You are here:
1993-2018: Opulence in acrylic and wood
Sequel: