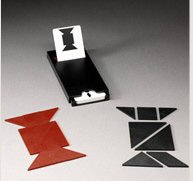 Please note: Tangoes were
made by Rex Games, now
closed. When we run out,
we won't get more. You
can find Tangoes and
tangrams elsewhere online.
See also our
Chasing Squares

for similar and more
advanced play.
Guest Appearance! While our supplies last...
TANGOES
®
...from Rex Games (sorry, their business closed)
Tangrams are one of the oldest puzzles known, over two hundred years old, variously credited to the Chinese or the Greeks or an unknown designer. Rex Games' modern versions under the name Tangoes are superbly made, with two sets of nicely textured plastic pieces, a deck of 54 two-sided image cards, and a slim carry-case that doubles as display stand for two players to compete in solving. Ideal travel game, and you can buy supplemental decks to keep you challenged (while our supply lasts). For ages 8 to adult, 1 or 2 players.

$9
Tangoes is a registered trademark of Rex Games.

TANGOES® Card Decks
Rex Games released additional decks periodically, each with 54 two-sided cards or 108 new images. We have a few decks left, while they last, of edition 3. (Deck 1 comes with the set.) Just click on the deck to add it to your order. Deck 3,

$4