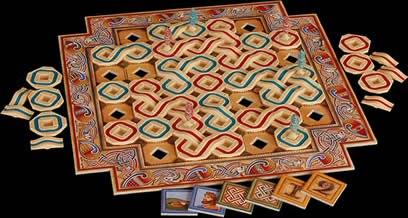 Project Kells and Tara are trademarks of Murray Heasman.
Patented and made by Tailten Games, Ireland.
TARATM (formerly Project Kells)
...invented by Murray Heasman

A simply stunning game evoking Irish legends and producing ever-changing Celtic knot designs as players build ring forts and link their kingdoms with bridges. Every detail has been thought of with consummate artistry for visual, mental and tactile pleasure, even the packaging. Two games, 8 variants to play: "Sacred Hill" and "High Kings of Tara." Score with kingdoms or with knots as the intricate connections intertwine. Full animated rules on Murray's website. Excellent production values, at a popular price. Are we raving? Aye, and rightly so. This highly original game well deserved being named Games Magazine's No. 1 strategy game for the year 2006. We've thought of some interesting puzzle designs to explore with it, as well. For two players, ages 9 to adult.

Sorry, sold out. Murray may make more
in 2020. Please check here later.