Play Pearl Fisher online against
a cunning computer!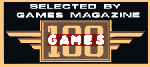 PEARL FISHER
TM
... invented by Ferenc Palinkas,
styled by Kate Jones
Pearl Fisher is an elegant synergy of abstract strategy and memory. Two-sided board has square grid on one side, hex grid on the other. Finely handcrafted 11½" boards are laser-engraved. The "pearls" are glass marbles.
Move pearls and cover them with shells. Can you uncover the right color of pearl? Average playing time, 10 to 20 minutes. Three game themes, three solitaires. Includes 9 pearls each of 3 colors plus 9 "shells" and a felt slipcase. Engrossing play for 1 or 2 players, ages 10 to adult.

$65
At right: Flip side of board, with hexagonal grid.