Zdravko is a banker by profession. He has a distinguished resumé, including serving as head of the development department in the Vojvodjanska bank (1984-1993) and as assistant to the President & CEO of that bank from 1993-2000, responsible for business policy and marketing.
He was born November 25, 1955, in Yugoslavia and attended technical college in Novi Sad in 1974, graduated from the University of Novi Sad in 1978 (Economics), and earned a post-graduate degree from the University of Belgrade in 1982 (Marketing). In 1989 he attended a business school organized in Belgrade by George Washington University and the University of Pennsylvania. To these learnings he added Marketing and Financial seminars in London in 1997 and 1998.
From 1981 to 1982 Zdravko taught high school economics. He started to play guitar in 1967 and played in a pop band from 1971 to 1978. He joined Mensa in 1991.
His puzzle-inventing began in 2000. The first ones were 2D puzzles (4- and 5-color squares and 4- and 5-color triangles), dedicated to his children, Theodora, then age 6, and Isidora, then age 4. Shortly thereafter he created his first 3D puzzles: "Magic carpet cubes" and "Honey-med pyramids". His two little girls liked them so much that he decided to specialize in 3D puzzles. During 2000 he copyrighted 10 edge-matching color puzzles, and among them were Cube Brick and Color Up.
In 2001 Zdravko founded AVAX Corporation to develop and produce further games and puzzles.
During a most fruitful email correspondence and collaboration with Kate Jones of Kadon during early 2001, Cube Brick and Color Up were developed and expanded, and with Zdravko's characteristic energy and initiative, they were ready for the market by the fall of 2001.
Zdravko has given Kadon exclusive rights to market these sets in the USA. Other major markets for the puzzles are England and Hungary, where Zdravko visits frequently (see picture above).
A special thrill was learning that Color Up and Cube Brick made the "Games 100" list for 2003 in the puzzles category. A few years later, his sets, Doris and MemorIQ, were equally honored.
New puzzle projects are always in the works. We look forward to seeing the new wonders Zdravko's creativity will bring forth. Here's a showcase of other special sets of Zdravko's that we offer.
Several of his prototypes for new designs were revealed to the world at the Essen Game Fair in Germany in October 2002. Here is Zdravko with his first table display: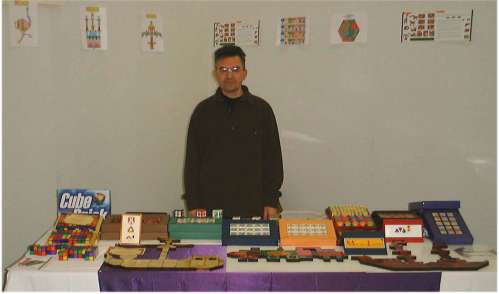 Zdravko at the world premiere of his new designs in Essen, Germany (October 2002).



The Novi Sad Children's Fair, from April 19-22, 2003, saw a fabulous large display of interactive puzzles that Zdravko staged, showing both his own latest inventions and several puzzles from Kadon. It was by all accounts the most popular attraction at the Fair, with TV coverage and a 30-member school orchestra opening the show.

From July 31-August 4, 2003, Zdravko was a guest at the International Puzzle Party in Chicago, IL, where he again revealed some exciting new puzzle editions.

For Theodora's 8th birthday, on September 12, 2003, we sent her this little greeting.


In honor of the family's vacation at the beach resort of Igalo in 2003, and Isidora's 6th birthday in August 2004, we designed this little memory game.

And for Theodora's 9th birthday, 2004, we increased her previous greeting by one.

In 2008, Isidora performed at the Children's Music Festival, "Little Shells," singing "Between reality and dreams." See the video.

In March 2008, at the 8th Gathering for Gardner, Zdravko's magnificent DORIS set had its world premiere with a presentation by Zdravko and our co-researcher, Toby Gottfried, to a distinguished group of mathematicians, magicians and puzzlers. The special first edition sold out on the first day. You can guess why the set is named Doris...Zdravko's daughters' nicknames are Dora and Isi!
---
Update: — Since 2010, Zdravko has been organizing tournaments in Serbian and Romanian schools to challenge students' problem-solving and creative skills in finding solutions to a variety of Doris figures, spreading the championships to 10 countries. He has also been hosting Celebration of Mind gatherings as part of a world-wide remembrance of Martin Gardner on Martin's birthday, October 21.
You can see Zdravko's videos of Doris Championships and Celebrations of Mind on his YouTube channel, and read our detailed historical reports on Doris Championships here (links open in new window):
RESULTS — Doris Championship 2012

RESULTS — Doris Championship 2013

RESULTS — Doris Championship 2014

RESULTS — Doris Championship 2015