RESOURCES
Game and
puzzle
catalogs
Bits&Pieces. This is one of the oldest and most distinguished among the mail order resellers of puzzles, beginning with jigsaw puzzles and offering a wide variety of novelty and mechanical puzzles, including showcases of some of the world's outstanding puzzle designers. Their print catalog is excellent and can be used to place on-line orders.



Cleverwood has a large selection of excellent mechanical puzzles and secret-opening puzzle boxes by many of the world's most famous designers and woodcrafters. Read articles about the history of Japan's master craftsmen and other fascinating puzzle subjects. It's well-organized, informative and inviting, including lots of helpful links to other puzzle sites and collections.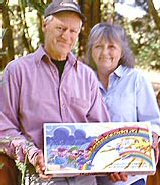 Cooperative Games & Child and Nature originally was the wonderful family-operated catalog business, Animal Town. Sadly, when they sold it in 2000, the new management folded soon after. The family, Ken and Jann Kolsbun, then built a beautiful and loving website, Child and Nature, where you could still buy some of their classic cooperative games and many books that were designed to instill a love of nature and animals and friendly, happy play. Their catalogs were always anticipated in the olden days, filled with family pictures and stories as well as charming descriptions and illustrations of their dozens of games. We watched their whole family grow up over the years. We're glad we kept all those old catalogs; nostalgia is priceless. Now Jann and Ken are in semi-retirement, and the great news is that their games and philosophy have been incorporated into a new enterprise, CooperativeGames.com, by Suzanne Lyons, an educator, author and Earth scientist. With her husband, Pete, they now manage a wonderful shop of cooperative play products that incorporates Animal Town's pioneering cooperative philosophy. Be sure to read their philosophy page while you're there.


Crafty Puzzle Company is James Cole's small family-run business in Bristol, England, offering their own handcrafted wood puzzles for the whole family, shipped internationally. These puzzles, brain teasers and wooden 3D jigsaw puzzles will test your IQ and lateral thinking skills, and look beautiful besides. And James provides many links to other puzzle and game resources. They also have a parallel site in Britain.

Enginuity has a line-up of clever and attractive original games designed by Andy Daniel, a California engineer. Cards, dice, abstract strategy board games, family games...all very cool, nicely made, and several award winners in the line-up.

Family Pastimes is a refreshing website offering cooperative games and puzzles, and a warm and friendly philosophy that fits right well with our own. The proprietor is Jim Deacove, the creator of all their wonderful games. Family Pastimes is based in Canada, and their motto is, "Play together, not against each other." We salute them.


Fun Again Games bills itself as the world's largest Internet game store, specializing in imported and American games. Their jam-packed website includes game reviews, reports on major gaming conventions and trade shows, and even their own "Gameweb" search engine for other game sites on the Web. They sell almost any game on earth except those not sold at wholesale (such as Kadon's products). Check them out.


Hardwood Creations is David Levy's wonderful site of handcrafted wood products, including four pages of classic games like chess, go, backgammon, Chinese checkers, mancala, dominoes, solitaires, and cribbage. These are the finest, most beautiful gameboards you'll find anywhere. He even makes — it's not on his website, but we've seen it at shows — a magnificent, adjustable, convertible coffeetable containing all the gameboards and accessories. We're saving up for that one.



Livewire Puzzles are based in Canada and have a superbly done website of wire and disentanglement puzzles, interesting articles, a profound philosophy, and good links to other puzzle sources. The owners of this family business are Frank Gregory and Claudette Ouimet, who have been making their puzzles since 1979. You can find every level of difficulty here, for every level of skill.


Marbles, the Brain Store, a marvelous growing chain of game shops started in Illinois, features beautiful, fun and challenging products to improve memory, coordination, critical thinking, visual perception, word skills. There's even a play area for trying out games. During Kate's visit to the Chicago store in July 2010, Devon Blandin gallantly explained Tsuro and played it with her. A video in the store shows the latest brain research and how important play is to keeping brains sharp. If you can't visit one of their stores, hang out in their website.


Pentangle Puzzles is a long-established British maker of complex wooden puzzles and classic boardgames. They have an extensive line of brainteasers that encourage logical thinking and also look good on coffee table or desk. You wouldn't believe the 150-piece woodchucks and burrs. Take a look around.

Puzzle Master, Inc., founded by Allan Stein, a puzzle collector, designer and maker, offers a huge collection of mechanical puzzles and brain teasers, like wire entanglement, puzzle rings, wooden burr puzzles, all the tricky one-solution challenges. Good news: their customers can get free downloads of solutions. They also provide many categories of links to other sites.


Puzzle Paradise (formerly Davans Puzzles) is the brainchild of John Devost of Canada and is a classy artisans' cooperative of top designers who craft puzzles in wood: John Devost, Tom Lensch, Jose Diaz, Ron Locke, the Pelikans and Jerry McFarland, with more to come. These are collectors' editions, produced in small quantities, made to be treasured. The links page includes many other prestigious puzzle sites. Kadon occasionally offers our more collector-oriented designs.


For many years our website offered Tangoes and other nice games from Rex Games' catalog of excellent exclusive products they manufactured—classic concepts like tangrams, word ladders, games for lateral thinking, geometric visualization, made in good quality plastic, well packaged. Now Rex Games have been acquired by Smart Toys and Games, a Europe-based company doing exciting work with non-violent "games that teach the mind to think", with a line of fun, IQ-building, single-player puzzle games and magnetic building sets. Kadon happily still sells their classicTangoes.You can shop for other SMART games online and play online, over 1400 brain-building games at last count. Become a member and track and save your scores, join their testing team, and build logical thinking skills. It's the latest trend.


Simple Pastimes offers an extensive collection of jigsaw puzzles and accessories, from makers like Ravensburger, FX Schmid, White Mountain, and others. They also have a nice resources directory of links to many game, puzzle, recreation and hobby sites.

The Spilsbury Puzzle Co. Here's a catalog that's choosy about what to include from the manufacturers of mentally absorbing games and puzzles, stylishly presented. Their online version is so extensive, and won' t process your order without setting a cookie, that you're better off ordering the printed catalog.


Stave Puzzles are Steve Richardson's magnificently created wooden jigsaw puzzles. He's been crafting them lovingly since 1974. Stylish, witty, inventive designs have made Stave a world-famous name, the best of their kind.

Tabletop is Ian Henry's fine blog about abstract strategy games and where to find them. His entry for April 17, 2010, features sources for Hex boards and includes a link to Kadon's custom Hex board page.


ThinkFun (formerly Binary Arts) are the folks who have brought the world such excellent "smart toys" as Brick by Brick, Shape by Shape, IZZI, Top Spin, Back Spin, the irresistible Rush Hour, and a great many other charming and sincerely challenging puzzles. Their website is continually improved. You may want to check in periodically to see what's new. It's worth emphasizing that ThinkFun, Inc., is not merely a seller of puzzles but the developer and manufacturer, working with the most talented inventors and designers of our time. They also collaborate with other good game and puzzle producers, and sponsor the informative, creative puzzle site, Puzzles.com. Their latest group of geometric and logic puzzles are truly "Mind Challenging Games" (this slogan is their trademark) and aimed at classroom use as well. In 2005, for their 20th anniversary, Kadon presented them with the first annual Gamepuzzles Originality, Perseverance and Leadership salute, an occasional industry award. Their unique prize had 20 parts.



The Zome System is a building toy, an ingenious 61-zone system of struts and connectors for modeling 3D geometry. Zome celebrates the uniqueness and beauty of nature as expressed in geometric constructions and makes child's play into profound truths. Visit their website for examples of simple and intricate models.