Here is a growing collection of designs formed with the Chasing Squares set, showing the immense variety of symmetry types and themes the set invites you to explore. Like a kaleidoscope, new patterns emerge every time you play. Most of these were solved by visitors to our art booth; several are by our staff, Eileen, Sue, Meshele, Eric and Kate. Check out these categories, and if you find some interesting new patterns of your own, send us digital pictures of them and we'll add them to this gallery. Send to: Chasing Squares Designs.


---
Simple vertical symmetry—notice especially the "frog" in the middle, modeled by a young visitor to our booth to surround his pet frog.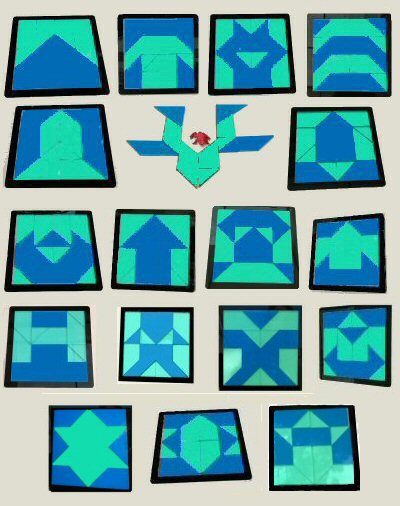 Diagonal symmetry—tilt your head left or right for a better view: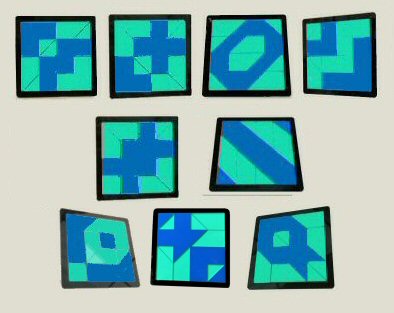 Rotational symmetry—if you spin an image around by 90 or 180 degrees, it will again look the same. In a few cases, as in the third and fourth row, it will rotate into the opposite color.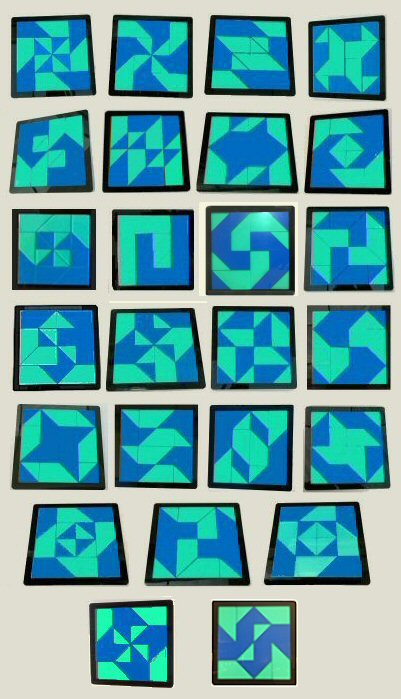 Opposite-color symmetry—these are among the most beautiful, as one color mirrors another vertically, diagonally, and even rotationally: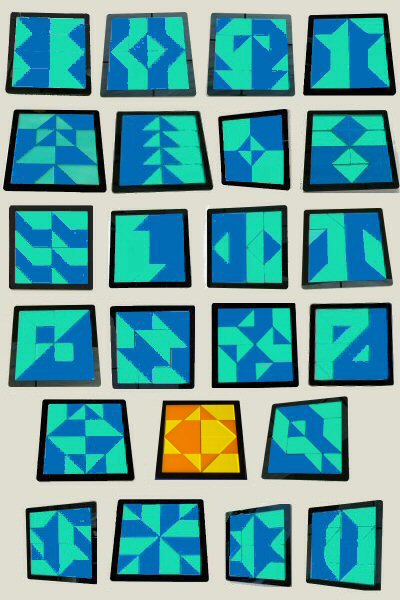 Chasing the squares: We're still searching for improved scores. Here's a pretty solution of 14 traceable squares all outside the tray (left) and a 24 (right) with squares divided both in and out of the tray. White areas are empty, "negative" spaces. Both were solved by talented visitors to our booth.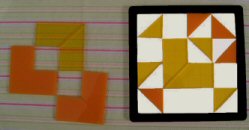 World record: 26 squares—found by "Tony" on June 28, 2015, in Wayzata, MN.