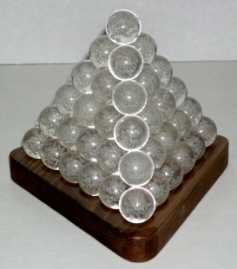 Deluxe wood bases, handcrafted by Dick Jones, gave the Kolossal a classic, elegant presentation. After the initial red plastic pieces that we first had available (above left), our intended permanent version would have been with crystal-clear pieces (above right), matching our other pyramid puzzles.
Alas, when one of the piece shapes went out of existence because its inventor, Len Gordon, changed the molds that made the pieces, we had to find another way to keep this gorgeous puzzle alive. The answer: wooden balls pegged and glued together. These were larger than the plastic pieces, looking downright majestic (below). After a couple of years of arduous labor, the wooden Kolossal in 1989 went into indefinite retirement. Dedicated collectors with long memories could still request a custom set. As for general audiences, our Perplexing and Giant pyramids continued to fill the thrill until they, too, ran out of parts and were retired.
For the 25th anniversary of its genesis (1986-2011), we brought back the Kolossal Pyramid with wood balls on a wood base, approximately 6" tall, in an extremely limited edition of 5 handcrafted sets. As of December 2, 2011, the Silver edition was sold out. In 1995 we brought it back permanently as a custom order item, one at a time, at $150. They are enormously painstaking to build. If you really, really want one, please inquire by email to Kolossal Pyramid.