It started with Paris —

For the 37th International Puzzle Party, held in Paris, France, in August 2017, Kate designed a puzzle with a Marie Antoinette theme, Let them eat cake. It's a cross between Sudoku and Latin Squares. Here are its three challenges, using these 5 pentominoes and 25 disks with images of "cakes":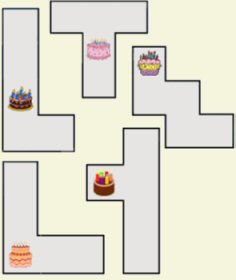 Arrange the 5 pieces into a 5x5 square with one cake in every row, horizontally and vertically.
Place 25 cakes on the 25 cells of the 5x5 so that 5 different cakes appear in every horizontal and vertical row and on every individual pentomino.
Disregarding the tile shapes, place the 25 cakes so every horizontal, vertical and diagonal row has all different cakes. There are 14 diagonal rows of at least two cells.
The puzzle included the five lasercut acrylic pentominoes, each with one cake attached, and 25 acrylic disks, with five of each for the five different cakes. They were supplied in a beautiful royal-blue velvet drawstring pouch.
Here is Kate at the Puzzle Party festivities, with a richly bedecked display table of puzzles for sale to the attending puzzle lovers and collectors.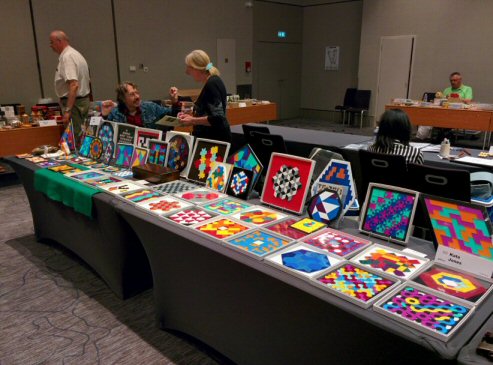 For the Gathering4Gardner Foundation's 2019 Celebration of Mind, we reproduced a special souvenir edition of this 25 Cakes puzzle on paper. You can print it out, cut out the pieces, and try to solve it yourself.
The limited-edition, historical Paris version is sold out. A new, permanent edition of Let them eat cake, celebrating several historical occasions, started in 2021, complete with the original 5 acrylic pentominoes and 25 acrylic "cake" disks. It also makes a great birthday gift. $25