Australia — 27th International Puzzle Party


Kate was invited to the 27th annual International Puzzle Party of puzzle collectors and designers, held in August 2007 in Gold Coast, Australia. Logistics coordinators were the indefatigable Brian and Susan Young, who have their own puzzle shop, Mr. Puzzle, in Tamborine, Queensland, Australia.

The hard-working committee headed by Frans DeVreugd of The Netherlands also arranged for some fantastic trips and excursions around Australia before and after the Puzzle Party itself. Here's a page of Kate's and Dick's stories and photos of The Australian Adventure.

Kate's display during the buy-and-sell day of the Puzzle Party included some new puzzles and some of our hardest, as befitted this crowd of world-class puzzle experts:

A typical scene at an IPP is a group of puzzlers engrossed in trying to solve the latest brainstorms of the world's best puzzle designers: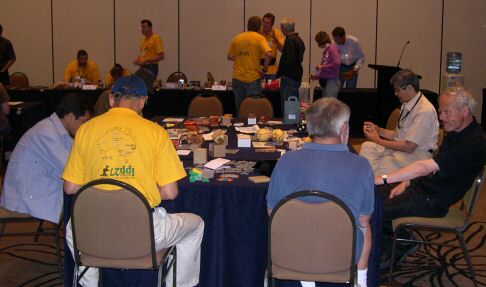 As exchange gifts for the attendees, Kate had designed a special, limited-edition puzzle, SudoKoala, a mix of Sudoku challenges and koala bears, in honor of Australia's most famous tree dwellers. The full description is posted, but not the answers!
Just click on these escapees from the set to see the whole story.